Welcome to the complete guide to roofing marketing, where we delve into advanced strategies and tactics that can propel your business forward in today's competitive landscape. The roofing sector is ever-changing, and it's essential for businesses to stay ahead of the game by utilizing modern marketing approaches.
In this comprehensive guide, you'll discover how a mobile-friendly website with engaging content can improve user experience and generate more leads. We will also discuss local SEO tactics, Google Business Profile listings, SMS marketing strategies, customer reviews management, web chat features implementation as well as text automation benefits.
Furthermore, our complete guide to roofing marketing will explore digital advertising platforms like Google Ads and Facebook Ads campaigns while highlighting collaboration opportunities with social media influencers. Additionally, you'll learn about community involvement through trade show participation and networking events for building strong referral networks.
Last but not least, we'll touch upon offline marketing methods such as print ads design and vehicle wraps usage for brand exposure. Finally, yet importantly, email marketing campaigns' best practices are covered, too – providing tips on growing an engaged subscriber list while crafting compelling newsletters that drive conversions.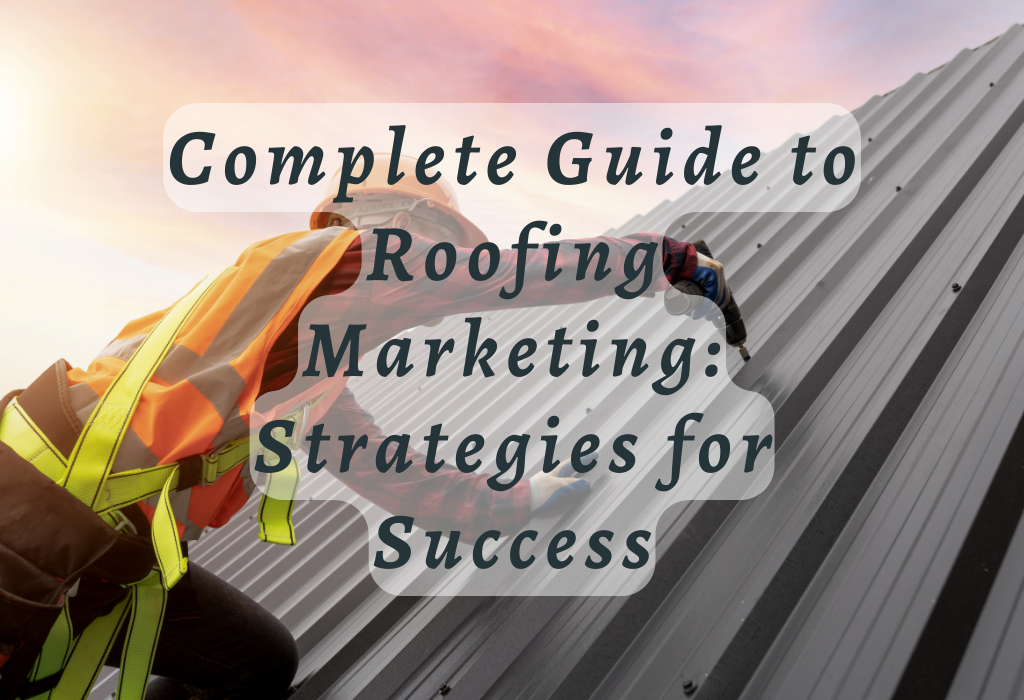 Mobile-Friendly Website and Engaging Content
For roofing businesses to draw in potential customers, a mobile-friendly website is essential in the digital age. With more people using their smartphones to search for services online, ensuring your site is responsive and easy to navigate on all devices can greatly improve user experience. In addition, engaging content such as informative blog posts can help boost your search engine optimization (SEO), making it easier for prospects to find you when searching for roofing companies.
Importance of a Responsive Web Design for User Experience
A responsive web design automatically adjusts the layout of your website based on the device the visitor uses. It alters the page layout depending on the device a visitor uses, ensuring they have an ideal browsing experience, whether it's from a desktop or mobile. According to Google research, 53% of mobile users abandon sites that take longer than three seconds to load, so investing in a fast-loading, responsive design should be a top priority.
Blog Topics That Address Common Roofing Concerns and Solutions
By addressing these common concerns through engaging content on your website's blog section, you can establish yourself as an authority in the roofing industry while also improving your SEO rankings. This will ultimately lead more potential clients to find and choose your services when they're in need of a reliable roofer.
Local SEO Tactics and Google Business Profile Listings
Utilizing local SEO tactics is crucial for boosting your online presence within the local community. One effective way to achieve this is by optimizing your Google Business Profile listing. Accurate listings with relevant keywords ensure that potential customers find you when searching for roofing services nearby.
On-page optimization techniques to target specific locations
For better visibility in search engine results, it is essential to employ on-page optimization techniques focusing on particular areas. Start by conducting keyword research to identify relevant keywords related to the roofing industry and your service areas. Incorporate these keywords into various elements of your web pages, such as title tags, meta descriptions, headings, and content. Also, create location-specific landing pages showcasing your unique services in each area.
The Role of Citations in enhancing local visibility
Citations play a significant role in improving local visibility for roofing companies. A citation refers to any mention of your business name, address, and phone number (NAP) on external websites or directories like Yelp or Yellow Pages. Ensuring consistency across all citations helps search engines validate your business's legitimacy while making it easier for potential customers to find accurate information about you online.
By implementing these local SEO tactics and optimizing your Google Business Profile listing, you'll be well on your way to increasing online visibility within the communities you serve. This ultimately leads to more roofing leads and a thriving business.
SMS Marketing and Customer Reviews
Encouraging satisfied clients to leave reviews on platforms like Google My Business or social media channels can significantly enhance your reputation and attract new customers. SMS marketing campaigns, when used effectively, can engage past customers while providing updates about special offers or promotions. And here's how you can do that. 
Implementing an Effective SMS Marketing Strategy
To implement a successful SMS marketing campaign for your roofing business, follow these steps:
Managing Customer Feedback Through Various Review Platforms
Gathering positive feedback from satisfied customers is crucial in building trust among potential clients. To manage customer reviews effectively:
Web Chat Features and Text Automation
Integrating interactive chat features into your website enables instant communication between prospects seeking information about ongoing projects or future needs. And streamlining customer interactions using text automation tools improves overall client experience by reducing response times. Hereunder, we've documented the whole process.
Real-Time Communication via Web Chat Systems
In this day and age, clients demand rapid replies to their queries. By incorporating web chat systems on your roofing business website, you can provide real-time assistance to potential clients with questions about roof repair or replacement services. This enhances the user experience and increases the likelihood of converting a prospect into a loyal customer. Moreover, web chats allow you to gather valuable insights about common concerns among property owners needing roofing services, helping you tailor your marketing efforts accordingly.
How Text Automation Enhances Efficiency in Handling Inquiries
When used effectively, text automation can significantly improve the efficiency of handling customer inquiries while ensuring that no query goes unanswered. With automated responses set up for frequently asked questions related to roofing sales and services, your team members can focus on more complex issues requiring personalized attention from professionals within the industry.
Digital Advertising Platforms
Roofing companies should take advantage of digital advertising platforms like Google Ads and Facebook Ads, which allow targeting specific audiences within their local area and generating more leads for their business. Forming partnerships with social media influencers could also prove beneficial by offering special deals to attract new customers.
Strategies for Successful Google Ads and Facebook Ads Campaigns
Targeting specific ad campaigns on both Google and Facebook is a must for effective digital marketing. For a roofing business, this means focusing on relevant keywords such as "roof repair," "roof replacement," or "commercial roofing services." Additionally, you can utilize geo-targeting features to ensure that your ads are only shown to users in your service area.
Collaborating with Social Media Influencers for Increased Exposure
In addition to running paid ads on popular platforms like Google and Facebook, consider partnering with local social media influencers with a strong following among property owners in your target market. These collaborations can involve sponsored posts or even co-hosted events where the influencer promotes your brand through their channels.
By leveraging the reach and credibility of these influencers, you can tap into a new audience segment that may not have been previously exposed to your roofing services. According to a Twitter report, Influencers are sought out by consumers for product recommendations almost as frequently as they seek advice from their friends. So, make sure to track the success of these partnerships by monitoring referral traffic, leads generated, and overall return on investment (ROI).
Community Involvement and Networking
Participating in community events, such as trade shows or sponsoring local initiatives, can showcase your roofing business's goodwill towards the neighbourhood where it operates. Establishing relationships with other businesses in related industries may lead to potential clients looking for roofing services being referred to you. This section will discuss the benefits of attending industry-specific trade shows and building a strong referral network through strategic partnerships.
Benefits of Attending Industry-Specific Trade Shows
Trade shows are an excellent opportunity for roofing companies to network with fellow professionals, suppliers, and potential customers within their target market. At these events, you can use your knowledge and experience to demonstrate the latest trends and technologies in roofing while also cultivating new leads that may develop into long-term customers. Additionally, participating in trade shows allows you to collect valuable leads that could become loyal customers.
Building a Strong Referral Network Through Strategic Partnerships
Fostering relationships with complementary businesses, such as general contractors or property management companies, is crucial for generating referrals from satisfied clients who trust their recommendations. By partnering with these organizations on joint projects or offering exclusive discounts for their clientele, you can create mutually beneficial arrangements that drive more qualified leads toward your roofing company.
Offline Marketing Methods
Though online marketing has become increasingly popular, offline strategies remain viable for promoting roofing businesses. However, these traditional techniques still hold relevance when promoting a roofing business and can ensure maximum visibility within your target audience. Hereunder, we've briefly discussed these offline marketing tactics.
Design Eye-Catching Print Ads for Local Publications
Print ads remain an effective way to target local demographics in newspapers, magazines, or community newsletters. To create eye-catching print ads that resonate with property owners looking for roof repair or replacement services, focus on using high-quality images showcasing your workmanship along with concise copy highlighting the benefits of choosing your company over competitors. Incorporate relevant keywords such as "commercial roofing," "roofing contractors," and "satisfied customers" to attract attention from those searching for professional assistance in their area.
Maximize Brand Exposure Through Vehicle Wraps and Promotional Materials
Vehicle wraps are moving advertisements that showcase your brand wherever they go—turning every drive into a marketing opportunity. Invest in custom-designed vehicle wraps featuring bold graphics displaying your logo, contact information, and a list of services your roofing business offers. Additionally, hand out flyers at events like trade shows or door-to-door campaigns targeting specific neighbourhoods where roof replacements are common due to weather conditions or ageing homes.
Email Marketing Campaigns
Start building an email list through sign-ups via websites or events, then send subscribers valuable content tailored to them. Email marketing campaigns are another powerful tool providing a significant return on investment (ROI) if done correctly.
Tips on Growing an Engaged Email Subscriber List
To grow your email subscriber list, consider offering incentives such as discounts, free consultations, or access to exclusive content. Make sure the signup process is simple and visible on your website. Additionally, promote your newsletter across all of your online channels, including social media platforms and blog posts. More:
Crafting Compelling Newsletters that Drive Conversions
A successful roofing marketing strategy includes crafting engaging emails with informative content that resonates with potential customers. Focus on addressing common pain points in the roofing industry by sharing helpful tips, case studies, and testimonials from satisfied clients.
Personalize: Use personalization techniques like addressing recipients by their first name to create a sense of connection.
Educate: Share useful information about roof repair and maintenance topics relevant to property owners.
Showcase success stories: Include customer testimonials or before-and-after photos demonstrating the quality of your workmanship.
All in all, email campaigns can be a successful tool for broadening reach and connecting with potential patrons. However, social media engagement can further build relationships with those same customers and create lasting connections.
Create Engaging Content on Social Media Platforms
To effectively use social media for your roofing marketing efforts, create engaging content that showcases the quality of work you provide. Share before-and-after photos of completed projects, post informative articles about common roof repair issues, or even share testimonials from satisfied customers. By consistently posting valuable content, you'll encourage users to follow and engage with your brand online. Here's what else you can do.
Leverage Live Videos for Promotional Purposes
Interactive experiences like Facebook Live or Instagram Stories can help companies build trust and credibility with their target market while showcasing expertise in the field. Consider hosting live Q&A sessions where potential clients can ask questions about their specific roofing needs or offering exclusive behind-the-scenes looks at ongoing projects. These interactive experiences allow companies to establish trust and credibility amongst their target market while showcasing their expertise in the field.
Engage With Your Audience Regularly
Incorporating these strategies into your roofing marketing plan will boost engagement and lead to increased leads, conversions, and, ultimately, growth for your business.
FAQs Related to Complete Guide to Roofing Marketing
Conclusion
By following the strategies outlined in this complete guide to roofing marketing, roofing companies can effectively increase their online visibility and drive conversions. Businesses can employ a range of approaches to boost their digital presence, from optimizing their website for mobile devices to engaging with customers via social media platforms.
Additionally, offline marketing methods such as attending trade shows and designing eye-catching print ads can also help establish brand recognition within the local community. By combining these techniques, roofing companies can build a strong online and offline presence that differentiates them from competitors.
To start marketing your roofing business and generating qualified leads, it's important to conduct keyword research and identify relevant and specific keywords to target in your marketing efforts. This will help you reach your target audience and attract potential customers who are searching for roofing services online.
One effective marketing strategy for roofing companies is to create valuable content that educates and informs potential customers about the roofing industry. This can include blog posts, case studies, and video marketing that showcase your expertise and highlight your customer experience. By providing helpful information, you can establish your business as a trusted authority in the roofing industry and attract loyal customers.
In addition to content marketing, email marketing can also be a powerful tool for generating roofing leads and nurturing existing customers. By sending targeted and personalized emails to your email list, you can keep your business in mind and encourage repeat business and referrals.
Social media marketing is another effective way to engage with potential and current customers and promote your roofing services. By creating a strong social media presence and sharing relevant and engaging content, you can build brand awareness and attract new customers.
Finally, paid ads such as Google Ads and social media ads can be valuable to your roofing marketing campaign. By targeting specific demographics and keywords, you can reach potential customers who are actively searching for roofing services and drive qualified leads to your website.
To start implementing these roofing marketing strategies today and take your business to the next level, visit mindflowmarketing.